I. Overview of the Base
CUG Beidaihe Field Training Base is located in Beidaihe, Qinhuangdao City, Hebei Province, which is a famous summer resort in China. The base is about 400 meters from Shandong Fort Beach, with an area of 27,231㎡ and a floor area of 15,000㎡, including teaching buildings, dormitories (with 1,000 beds) , canteens, supermarkets, bathrooms and logistics service facilities. Each summer, thousands of students from CUG Beijing campus and Wuhan campus come here for field training. At the same time, the base is also open to other universities and tourists.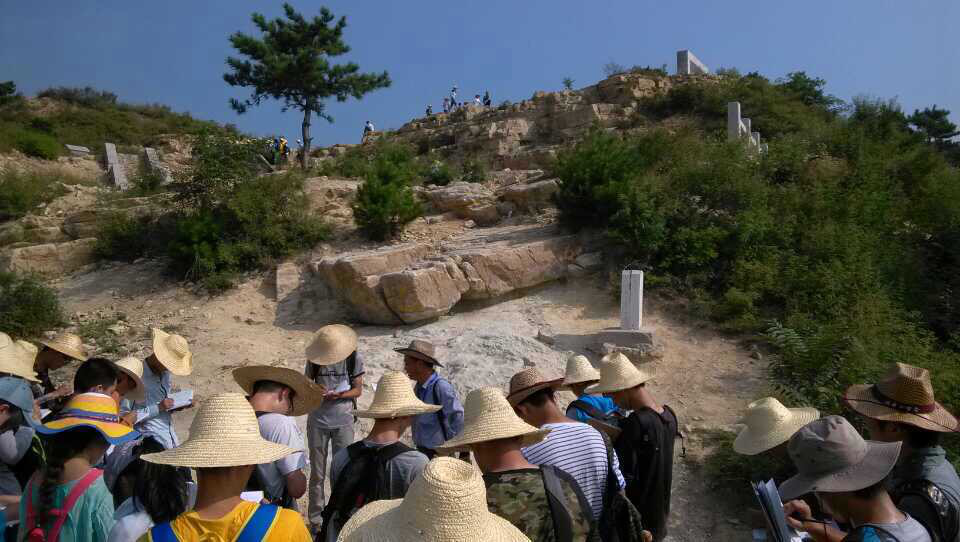 II. Teaching contents and arrangements
The main content of Beidaihe practice teaching is to observe natural phenomena such as intrinsic dynamics, extrinsic dynamics, mineral resources and humanistic environment developed in Qinhuangdao area under the guidance of teachers, and to analyze the process of geological function, and summarize the causes of geological phenomena.
Teaching routes :
Route 1: Mobilization meeting, Introduction to Use of Compass and Field Record Format
Route 2: Modern Weathering Crust Route from Shandong Fort Beach to Yanshan University
Route 3: Xinhekou to Geziwo Route
Route 4: Laohushi Route
Route 5: Liangjia Mountain to Shaguodian Route
Route 6: Shimenzhai Route
Route 7: Volcanics and River Landform of Shangzhuangtuo
Route 8: Jiguan Mountain Route
Route 9: Yansai Lake Route
III. Teachers
Associate Prof. ZHU Zongmin,Practice Team Leader, Email:zhumin@cug.edu.cn
Lecturer CHEN Lin, Deputy Practice Team Leader, Email:clcug@163.com; chenlin@cug.edu.cn
Prof. GONG Yiming, Academic Director, Email: ymgong@cug.edu.cn; gongym163-try@163.com
IV. Facilities
The Base has rooms for teaching and research with floor area nearly 5000m2, including 2 multimedia classrooms, 8 classrooms, 2 computer classrooms, and 1 geological exhibition room. The base also has a plastic football field and two basketball courts. The logistics service facilities are well-equipped enough to accommodate 1,000 sets of beds.
V. Contact info
Logistics support
Contact: LIU Kaiyu
Tel.: 0717-2868067
Mobile phone: 13545251410
Email:kaitlynkkk@hotmail.com
Teaching support
Contact: ZHANG Fan
Tel.: 027-67885009
Mobile phone: 15827200361
Email: 651361740@qq.com
VI. Address
No.341-4, West Section of Hebei Avenue, Qinhuangdao City, Hebei Province